Industrial Turntables - 48" Mild Steel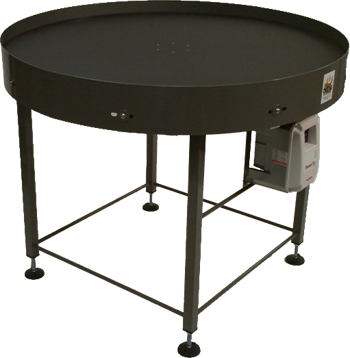 48 inch Diameter Mild Steel Industrial Turntable
Price: $2,999.00 USD (Includes Allen Bradley NEMA 1 VFD 110V AC)
Specifications:
34 inches in height with +/- 2 inches of height adjustment
RPM range is from 1 to 5
225 Lb full load turntable capacity
Allen Bradley PowerFlex NEMA 4 Variable Frequency Drive 110V AC Input
Heavy Duty direct drive, 1/8 HP, 3-Phase inverter duty gear motor
1/2 inch thick Plastic Turntable table-top mounted to a heavy duty drive hub
12g Stainless Steel Endless Product Guide/ Safety Ring (welded)
Fully welded Mild Steel Powder Coated Frame
Plated Mild Steel threaded floor levelers (bottom of tubing is closed with press fit tube ends to mount levelers)
Need this turntable customized for your application? Please use one of our handy printable RFQ forms below. Feel free to give us a call at 727-217-6719, or email us at sales@cheetahsystemsllc.com. We will be happy to assist you...
Download Proper Request for Quote Form Below: